Last Updated on December 15, 2022
This article may contain affiliate links. I get a small commission (at no extra cost to you) for any purchases made through them. Read more on the disclaimer page.
Making money is something that a lot of people are interested in. If you're one of those people, you may be wondering how to make $5,000 fast. The good news is that there are a lot of different ways to do it.
Maybe you need money for an emergency expense or want to earn extra cash and be able to treat yourself anytime you want to. You know what you need it for. And that's the reason why in this blog post you'll learn some of the best methods for making quick cash.
How to Make $5,000 Fast
Now, here are the best ideas to earn $5,000 quickly even at home.
1. Write freelance content
If you have a knack for writing, you can start offering your services to businesses and individuals who need content or copies for their websites, social media, and emails. Many opportunities to earn income by writing are available online and you just need to take advantage of them.
For starters:
Check social networks like Facebook, Twitter, and Reddit
Set up a professional account on LinkedIn, one of the top employment sites
Sign up for platforms like Fiverr
Email companies directly to inquire about writing opportunities
The pay varies depending on the scope of the project, but you can easily make a few hundred dollars per article or blog post. For instance, you can make $5,000 a week by writing 10 top-notch pieces that pay $500 each.
Here's a guide on how to become a successful freelance writer online.
2. Become a delivery person
Among the best ways to make $5,000 if you have a car or bike is doing deliveries in your area. It can be food from restaurants, groceries from stores, or other items from shops.
Here are the top delivery app jobs you can do:
DoorDash: It's known for food deliveries and works in various cities in the US, Canada, and Australia.
Instacart: Shop and deliver groceries to customers if you live in ten US or Canada.
Amazon Flex: Deliver groceries from Amazon working in select locations around the globe
The average delivery person makes about $20 an hour. So, you can make $5,000 in 200 hours at a $25 per hour rate. It depends on things like your location.
Also, working more hours helps meet your income goals faster. Another trick is to take note of busy days and hours where you live and never miss them.
3. Drive people and earn $5,000
You can make $5,000 fast by becoming a driver with companies like Lyft and Uber. It's just like doing deliveries, except that you'll be dealing with people in your vehicle and not groceries. So, being more careful on the road would be wise.
You may find that there are other car-riding service providers to work with locally depending on where you are in the world. In most cases, you can work for more than one company at a time to maximize the number of ride requests you get and boost your driver earnings.
If you work hard enough in a region with a good economy, you can make up to $30 an hour.
Remember, driving passengers won't work for everyone. You have to feel comfortable doing it and also live in an area with enough demand for rides.
4. Sell your stuff
This is probably the quickest and easiest idea to make extra cash. Go through your things and see what you can live without. Maybe you have some old items or something you bought but never or rarely use.
It doesn't matter whether that's furniture like sofas or electronics such as gaming consoles, phones, or laptops. If you have a lot of stuff, this could easily be a way to make $5000 instantly.
Below is a list of the best websites to sell stuff online and locally:
Decluttr: Best for tech and media items like phones and CDs.
Gazelle: Earn PayPal money, check, or gift cards for selling your used devices.
Facebook: You can sell almost anything on your Facebook page, group, or Facebook Marketplace.
eBay: Create local listings of any item you want to sell and get paid upon pickup or electronically.
Craigslist: Another great online platform to sell your stuff, even a bike or car.
When selling anything, make sure that it's still usable. You can even do minor repairs to increase the value of an item you've used for some time and get paid more for it.
5. Rent out your apartment
If you're not using your home all the time, why not make some money by renting it out? You can do this short-term or long-term, depending on your needs.
Just become a host on Airbnb, create a listing, and state how much you're charging per night. Make sure to take good photos of your place and write an enticing description to attract guests.
You can also join other platforms like Vrbo and HomeAway to list your property and get paid whenever someone traveling or on vacation rents it. Just remember to factor in the cost of cleaning, laundry, and other bills when setting your price.
6. Blog for business
Maybe you've been thinking about starting a blog but haven't done it yet. Now is a great time to do so. It's one of the best ways to make money from home and can easily earn you $5,000 or more per month.
To get started, follow these quick steps:
Pick what to blog about
Grab a domain name and hosting
Build your site's pages and set up your blog
Create content around the chosen blog topic
Promote your blog on social media and other online platforms
You'll need thousands of traffic from real people to earn decent income blogging through ads, affiliate marketing, or digital product sales. The more the merrier. It's possible if you choose a blog topic well, write quality posts, and promote the content.
Here's a full blogging guide on starting an income-generating blog.
7. TikTok your way to $5,000
TikTok took the internet by storm and it won't slow down. The app is a great way to show off your creative side, and you can even make money from it.
You don't need any special skills or talent to get started. Just download the app and start creating short videos around whatever topics you're passionate about. It even works better if you base your TikTok page and content on how you want to generate income right at the start.
To start earning, you can:
Become a TikTok influencer and get paid to promote products or services
Create sponsored videos for brands
Sell your original merchandise
Start a Patreon account and get paid by your fans
There are many other ways to make money on TikTok. The key is to be consistent, have fun, and engage with your followers. That's how you'll build an audience big enough to earn good cash doing what you love.
8. Create a YouTube Channel
This is an idea that almost everyone has jumped on. And there's a good reason for that. YouTube offers a great way to earn money from home without any special skills or talents.
You can start by creating videos around topics that excite you and grow your channel organically. You don't even need to start with expensive equipment. Making the minimum investment is advisable.
Once you have enough subscribers, you can start monetizing your content through ads, sponsorships, and selling products or services. If you're consistent and put out quality content, it's possible to make a full-time income or even more on YouTube. And you can do it without ever leaving your house.
9. Do odd jobs here and there
This is a good way to make some extra cash if you don't mind getting a bit physical. You can do odd jobs for people in your community or find them online through platforms like TaskRabbit, Fiverr, or Craigslist.
Some of the things you can do include:
Cleaning houses
Yard work (mowing lawns, shoveling snow, etc.)
Handyman work (fixing leaks, painting, assembling furniture, etc.)
Providing home care for seniors or children
Running errands
Many homeowners would be glad to pay you even more or offer extra jobs if they like your work. So, it's recommended to do your best when you get any gigs. Be sure not to go for jobs you're unable to complete or still learning to do properly.
10. Pick real estate
Have some extra cash to spare and want to invest? You can buy rental properties and generate income from the tenants. There are many different types of real estate investments, so it's best to do your research before getting started.
Here are a few things to consider:
Location: Look for areas that are growing or have the potential for growth.
Type of property: Houses, apartments, commercial buildings, etc.
Your finances: Can you afford the down payment and monthly mortgage payments?
The rental market: What is the average rent in the area? Are there enough potential tenants?
Once you've considered all of these factors, you can start looking for properties. It's best to partner with a real estate agent or experienced investor to help you find the right property and get started.
Other than that, you could try the easy way. Platforms like Fundrise allow you to make real estate investments online where you are.
11. Coach people online
You can get paid to help people with their problems by coaching them online. This is a great way to earn money if you're knowledgeable in particular matters or have experience in a certain field. Maybe that is a specific career, parenthood, finances, or something else.
All you do is listen and help someone solve their problem. It's possible to coach one person at a time or a group of like-minded people.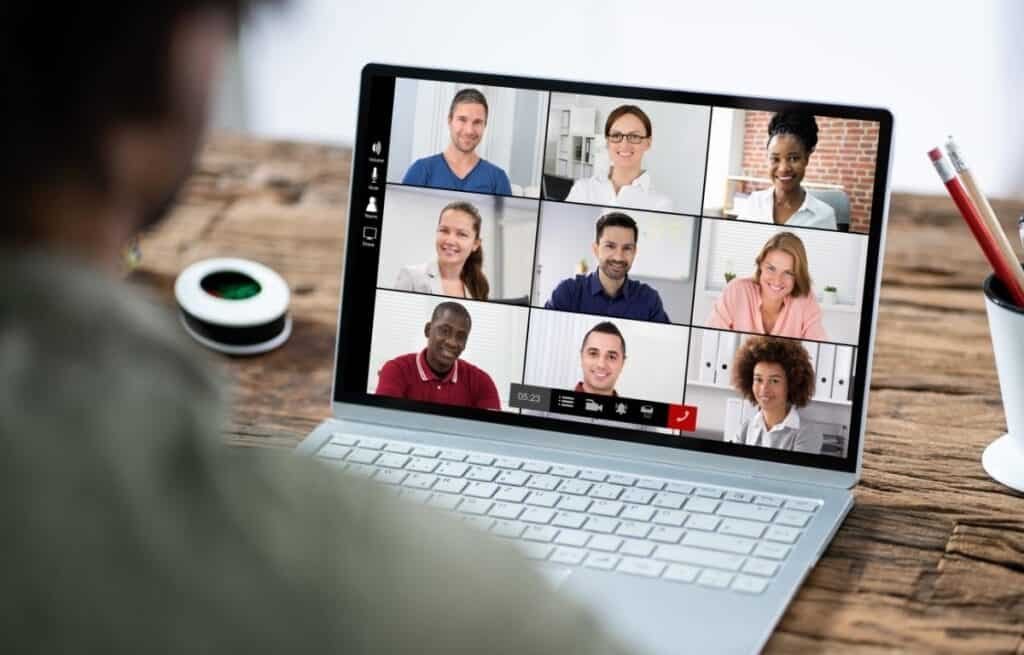 The good thing is that you can do it on a part-time basis. You simply set the available dates that clients can hop on a coaching session with you.
You can execute calls on the video conferencing platform of your choice since many are available online, such as Zoom. You can also use a suitable messaging app for this.
12. Become an online consultant
Online consultants help clients get solutions in specific areas. Unlike coaching where you mostly work on helping a person solve something themselves, consultancy requires you to tell them what they should do. In other words, you need answers to their questions based on what you know works.
This is a service that you can offer on social media or on your own website. It would be great to build a community online where your clients can even interact with each other, like a Facebook group.
You can also use this as an opportunity to upsell other products or services that you offer. For instance, if you're a financial consultant, you could sell your budgeting e-book or course to clients who want to get their finances in order.
13. Sell an e-course
Another possible way to earn $5,000 quickly for your knowledge and experience is by selling an e-course. It can be great for making money while asleep since you just need to set up the course once.
Of course, you'll need to keep the content up to date by removing what's outdated and adding the latest information. The frequency to update will depend on what your online course is about.
You can quickly set up your course online using platforms like Teachable. Such websites have made it easy to structure and sell courses in one place even if you're doing it for the first time.
The interesting part is pricing your course. You can base the price on how valuable your course is. You can price it affordably and get lots of students or put a higher price and earn more from every sale.
14. Create an e-book
An e-book is a digital product that people can read on their phones, computers, or tablets. It's a great way to share your knowledge and get paid for it.
An e-book doesn't have to be long; it could be 50 pages or fewer. The important thing is that the content is valuable and can help the reader in some way.
To get started, you need to come up with an idea for your e-book. Once you have that, determine the target audience and what problem they need to solve. After that, it's time to start writing or recording if you're doing an audiobook.
When it comes to publishing your e-book, there are a few platforms that you could use, such as Amazon Kindle Direct Publishing. You earn royalties from every purchase someone makes.
15. Become a virtual assistant
If you don't mind working for others, becoming a virtual assistant can be a great way to earn money fast. Virtual assistants help with tasks that the client cannot do or has no time to do themselves. This can be done remotely since you only need an Internet connection.
The work you do as a virtual assistant will depend on the client's needs. It could be anything from customer service to social media management to data entry. You can work with one client or multiple clients, depending on your time and preference.
To get started, create a profile on websites like Upwork, Fiverr, and LinkedIn. These platforms help you find work as a virtual assistant by connecting you with clients from all over the world. Better yet, establish yourself on social media and you have your own VA team or agency!
16. Buy and sell things for cash
If you have some money somewhere, however little, you can buy and sell stuff up the way to $5,000. It can work faster for you if you have sales and marketing skills.
There are many things you can flip to earn profits. Some examples are furniture, vehicles, and electronic devices. For instance, you can buy low and sell high on Amazon. You could also buy products at garage sales or from online marketplaces like Facebook groups and Craigslist, then resell them at a higher price someplace else.
You can even start your own e-commerce store if you have some time and money to invest in it. Shopify makes it easy to create an online store even if you have no prior experience.
The key to making good money from flipping is to find the right products and understand your target market. When you master that, it'll be easier for you to make some quick cash this way.
17. Work after hours
Many companies are willing to pay employees for their extra time and effort. If you have a job, you can work overtime to raise a quick $5,000.
You could also look for opportunities to start your own business on the side and earn when not doing your regular work hours. Just be sure not to overwork yourself and burn out.
Be strategic about how you use your time so you can still enjoy your life outside of work. You can do it on specific days only or even on weekends when free.
18. Pawn items for quick money
It can be that you have valuables such as jewelry, electronics, or even a car title. These are a few of the stuff you can take to the pawnshop and get $5,000 in quick money.
Pawnshops are businesses that lend people money in exchange for their items. The amount depends on the item's value. They hold on to the item until you're able to repay the loan with interest. The great thing is that you can still get your item back as long as you have the money.
The downside is that if you don't repay the loan, the pawnshop will keep your item and sell it to earn back their money. So only do this if you're sure that you can repay the loan on time.
What Can I Do for $5,000?
There are numerous things to do to get $5,000 fast. You can sell something or offer a service to get the amount.
Remember, you may not make the 5,000 dollars from a one-off thing. Whether it's a service like freelancing, posting TikTok sponsored content, or doing an odd job, you're likely to do it for some time to reach this income goal. When you've perfected the art, you may be able to do less and earn more.
Wrapping It up
These are some of the ways you can make $5000 fast. Focusing on one idea and going at it helps. But you can try a combination of a few to reach your goal in time.
No one needs to mention that getting this amount of cash requires some work and won't always be plain sailing. Just remember to be strategic and have a plan so you can make the most out of your efforts.