Last Updated on March 19, 2023
This article may contain affiliate links. I get a small commission (at no extra cost to you) for any purchases made through them. Read more on the disclaimer page.
Making money can be hard, especially when you need to make $2,000 fast. But what if I told you there were ways to generate such an amount that won't take months? You'd probably be interested, right?
Well, that's exactly what we're going to talk about in this blog post. I'm going to share different ideas on how to make 2,000 dollars quickly that almost anyone can try. It doesn't matter whether you're currently in another job, staying at home, or studying.
Now, when it comes to making fast cash, some methods take more effort than others. But these are usually the ones that can reward you with more extra income for the days to come. Either way, you could choose to invest in something in terms of money, and not time, to do less work and still reach your income goal of $2,000.
18 Ways to Make $2,000 Fast
Ready to explore the deets? Here are the top ways to earn a quick 2,000 bucks online and in person.
1. Start a dog-walking business
If you love dogs and don't mind getting some exercise, starting a dog-walking business is a great way to make quick cash. It's something you can do without a degree and won't need to handle lots of paperwork like in formal jobs.
But you need to be in good shape to become a dog walker. Remember, the work involves walking around for quite a long time.
You can easily charge $15 per half-hour walk and make $60 for a four-hour day of work. And that's without customer tips included!
More dogs to walk equals more money. So, if you have 5 dog-walking clients, you'll have $300 in a day and $2,000 in a week or so. Who knows, you may be lucky to get a well-paying client and reach your target faster.
To get started, create a profile on websites like Rover. You could easily connect with local dog owners and no need to go door to door offering your services. The platform allows you to be your own boss — no pressure!
2. List your house or apartment on Airbnb
Need $2,000 as soon as possible and have an extra room or a whole place to spare? If so, you could list it on Airbnb and make a killing out of it.
The income you can generate as an Airbnb host depends a lot on the location of your space. Some regions, especially the most-visited ones, have much higher income potential than others.
Keep in mind that you'll need to comply with local regulations when listing your property on Airbnb. For instance, some states require hosts to get a special license or permit before accepting guests.
Other than that, you'll need to make sure your place is clean, comfortable, and safe for travelers. You can also decorate it to make it look more appealing and boost its rental value.
To get started, create an account on Airbnb and list your property following the instructions provided. If everything goes well, you could start receiving bookings in no time!
3. Rent out your car, truck, or RV
Do you own a car, truck, or RV that you don't use often? Now's the time to rent it out if you're desperate to get $2,000 quickly.
There are now many websites and apps where you can list your vehicles for rent. Among the most popular ones is Turo. It allows people in need of transportation to rent vehicles from individual car owners.
So, you too can create an account on the platform and list your vehicle. Make sure to take good photos of your rides to make them more attractive to renters.
As for how much you can earn, it depends on the type of vehicle you have and the location. But typically, you can expect to make around $30 to $100 per day. Multiple vehicles would mean more income-generating opportunities for you.
So, if you rent out your car for three days, you could make up to $300. And if you do it for 14 days, that's already $1,400 — more than half of what you need to reach your income target!
4. Start a blog
Have valuable things to tell? You can turn your words into cash by starting a blog. It's one of the most popular ideas to make money online, although it can take some time to build.
The good thing is that blogging can make you $2,000 in days when your blog is established well. It doesn't matter what you write about — as long as it's informative and profitable, you're good to go. You could cover topics like fashion, lifestyle, business, marketing, or anything in between.
If you want to get started blogging, you need to create a website using WordPress or any other content management system. Then, start writing your heart out and publishing helpful blog posts regularly.
You could make money through affiliate marketing, sponsored content, or selling digital products like e-books and online courses. The sky's the limit when it comes to generating income from blogging!
5. Sell some used electronics
Did someone say "I need 2,000 dollars by tomorrow?" Well, do you have any old electronics somewhere? Maybe an Xbox console, iPhone, or MacBook?
If so, you could sell them online or in person and make some quick cash. You can list your items on websites like eBay or Craigslist and get paid once they're sold. Just make sure to take good pictures of your devices and write accurate descriptions to increase your chances of making a sale.
If you want to get paid instantly, you can try going to local used electronics stores. They'll give you cash on the spot but won't pay as much as online buyers would. Either way, it's a great way to make some extra money if you have unwanted electronics lying around!
6. Invest in a small business
Maybe you need $2,000 but have some money saved up and need an investment opportunity. If so, you could invest it in a small business and earn a return on your investment. Doing so, you'll be making money while asleep and won't easily experience financial challenges.
Of course, there's always a risk involved when investing in a business. But if you choose a solid business with good prospects, the potential rewards could be huge.
You could invest in a small business by becoming a silent partner or providing financial support in exchange for equity. Research businesses thoroughly before investing any money to minimize the risks involved.
And then there's Mainvest, a platform where local investors can find highly-suitable microenterprises to fund. You can start with as little as $100 as a non-accredited investor.
7. Do some freelance work
If you're skilled at something that can be done remotely, why not make some extra cash by doing freelance work? There are many ways to launch your freelance career, and one of the quickest ways is to create a profile on a freelancing platform like Fiverr or Upwork.
Once your profile is set up, start applying for relevant gigs or wait for clients to come to you. When you land a job, be sure to deliver quality work to increase your chances of getting repeat clients. And if you build up a clientele, you can make even more money in the long run.
Besides freelance sites, you could get clients directly using social media networks like LinkedIn or establish your own site. These strategies may not give you results right away but are great for long-term income generation.
You could freelance in a wide variety of areas, including the following:
Freelance writing: Write content for bloggers and other websites.
Graphic design: Create logos and other designs for businesses.
Web development: Design and develop sites for people.
Digital marketing: Help brands put themselves in front of more eyes online.
So if you have a digital skill that others could benefit from, don't hesitate to start freelancing!
8. Become a VA online
A virtual assistant is an online personal assistant who helps with tasks like customer service, social media marketing, and administrative work. The services someone may need vary depending on the type of business and their goals.
As a VA, you can earn a decent hourly wage. The hourly pay for a VA is around $16.50 on average, according to PayScale. You could earn $100 a day offering VA services and have $2,000 a couple of weeks. It depends on skills and past experiences but formal education doesn't matter a lot.
You could start by creating a professional resume and then applying for VA jobs on job boards and employment sites online. It would be great, however, to build a presence online first, whether it's your own site or a social media page.
9. Invest in online real estate
Investing in online real estate is one of the best ways to make money passively. And with platforms like Fundrise, it's easier than ever to get started.
Fundrise is an online platform that allows you to invest in commercial and residential properties without having to deal with the hassles of being a landlord. It has a $7+ billion real estate portfolio.
To begin, you simply provide some of your information, select the plan, and invest manually or automatically. You can start investing with as little as $10 or even $1,000 and earn dividends. And if you want to reinvest your dividends, you can do so with just a click of a button.
Plus, Fundrise is free to join and only charges 0.15 percent in account fees plus 0.85 percent in fund fees annually. So if you're looking for a low-risk investment opportunity, online real estate could be a good option for you.
10. Do web testing gigs
Web testing is the process of assessing the quality of a website before it's launched. What you do as a tester is find a job you qualify for, go to a website to check its usability, and share feedback with developers. Usually, you write responses down on some questions or speak to a microphone and record your screen as you perform a test.
And as a web tester, you can earn $10 to $15 per test that takes less than half an hour. You can use various web testing platforms to access such opportunities. They're the best place to find gigs because most companies use them to find eligible testers.
An example is UserTesting. You can make a quick 10 dollars for a 20-minute test and a few hundred for the live interviews you take part in.
11. Take a loan
If you need $2,000 urgently, you could take a loan. This can be risky to do but might be how you save yourself if there's no time to do anything else.
The easy way is to give out collateral in the form of an asset you own, such as a vehicle or property. You can also use your credit score to qualify for a personal loan from a bank or online lender.
If you have bad credit, you could still get approved for a loan if you have a cosigner with good credit. Just be aware that taking out a loan can be expensive in the long run, so make sure you can afford the payments.
12. Pawn some things you own
In case you have some expensive items lying around, such as jewelry or electronics, you could pawn them to get the money you need. To do this, simply take your item to a pawnshop and they will give you a loan based on the value of your item. You can then use the money and pay back the loan plus interest when you're able.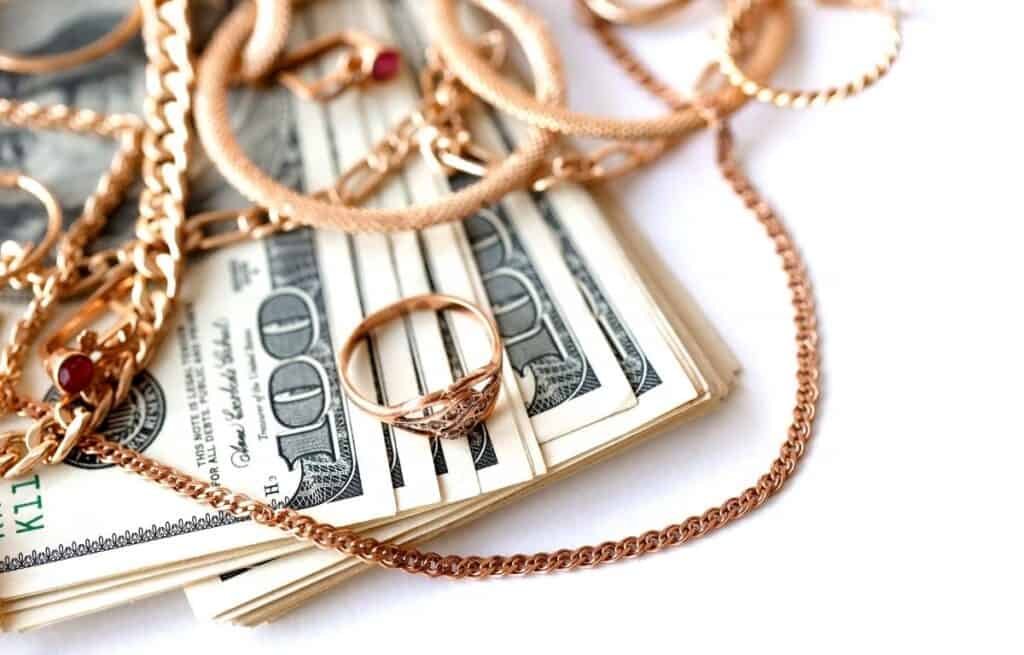 It can be a good option if you need money right away and don't mind paying interest on the loan. But keep in mind that failure to repay a loan can result in the loss of your property. This is because the pawn shop sells the stuff to get back its money.
13. Work as a consultant
Can you offer actionable advice? If you're an expert in your field, you could be a consultant. This can be anything from finances to relationship matters.
Consultancy usually involves giving advice to people or businesses for a fee. You could work with clients online or meet with them in person.
This option is great if you want to be your own boss and set your own rates. It's also a way to make money without having to commit to a full-time job.
14. Explore a money-making hobby
There are many hobbies that can make you money. And if you enjoy doing them, then it's two wins for you.
Here are some examples of hobbies plus ways to make money from them:
Cooking: Start a catering business or sell your recipes online.
Sports: Become a personal trainer in your area.
Gardening: Sell herbs and spices to people.
Yoga: Offer yoga classes.
Photography: Take pictures of products for businesses, at events, or sell photos online.
The possibilities are endless, so explore your interests and find a creative way to make some extra money from them.
15. Get paid $2,000 for your feet pictures
If you have nice feet and are willing to take pictures of them, you could make some quick cash. There are many people who are willing to pay for feet pictures, and you can easily find them online. Sites like FeetFinder connect users that want feet pictures with those open to selling them.
Also, you can use social media sites like Instagram to advertise your foot modeling hustle. Just take quality photographs with a decent camera.
In this guide on how to make money selling feet pics, you'll find more tips and tricks to try at home and be successful. Check it for more information on the topic.
16. Flip furniture
Are you good at fixing up old furniture? You could make some money by flipping things like chairs, tables, and wardrobes. It's possible to find cheap furniture at garage sales or thrift stores and then refurbish it to sell it for a higher price.
Some places to sell furniture online are marketplaces like eBay. You could also use Facebook to get potential buyers nearby.
This is a suitable idea to make some extra cash if you enjoy working with your hands. Plus, it's a great way to give old furniture a new lease on life.
17. Look for a second job
It can be that you're working and need a boost to your earnings within a short time. You could get $2,000 more if you took a second job. Be sure you can manage the extra workload before you commit, though.
There are many ways to find a second job these days, from online platforms like Indeed and Glassdoor to going through agencies. You could also look for part-time work in your field or try something new altogether.
People often take on a second job in industries like hospitality, as there are numerous openings from time to time and the hours can be flexible. Some job opportunities here are in accommodation, events, or fast food places.
18. Take a seasonal job
Seasonal jobs can be a great way to make some extra money when you need it. Because they're temporary, you can often fit them in around your other commitments.
There are all sorts of seasonal jobs available, from working in a convenience store during the holidays to being a counselor in a summer camp. You could even be Santa Claus or an elf if it's the Christmas season.
The best way to find seasonal work is to search online or ask around in your local community. You could also contact agencies that deal with temporary staff.
Wrapping It up
As you've seen on the list, there are many ways to make $2,000 fast. It might take some effort on your part, but it's definitely doable.
Hopefully, this article has given you some ideas on how to get started. So, choose one idea to begin with or a couple of the ones you like to hit your target income faster.