11 Best Places to Buy Used Phones (that work well!)
Looking for the best deal on a used phone you've been searching for? There are many places to buy second-hand mobile devices.
But you need to be cautious to avoid using a malicious website or one that doesn't vet its sellers. You may end up with a device that has poor performance or isn't usable any longer.
Don't worry because you'll find a list of the top platforms to buy pre-owned cell phones in this post. All of them offer a great selection of phones that work well and are affordably priced.
Websites to Buy Used Phones
Below are the best sites to buy cheap phones that have been previously owned.
1. Decluttr
Decluttr is a website where you can buy used electronics, including phones and tablets. The site has a wide range of devices from different brands. Different models of iPhones, Samsung Galaxy phones, and Google Pixel phones are available for sale in refurbished condition.
What happens on Decluttr is that someone sells their stuff at a specific price and it gets listed so that someone can buy it if interested. The Decluttr team checks the conditions of all tech and media items sold on the platform before releasing payments to sellers. Besides phones, you could also get used consoles, CDs, and books on Decluttr.
2. eBay
eBay is one of the most popular online marketplaces where you can buy or even sell a wide variety of items, including new and used phones. The website has many refurbished cell phones that are being sold by individuals and businesses. You can buy an iPhone, Samsung, LG, or any other type of device that you're looking for.
One thing to note about eBay is that you need to be careful about the sellers that you're dealing with. Make sure to check their ratings and reviews before buying anything from them. Also, don't buy from a seller who has a lot of negative feedback.
3. Amazon
When it comes to online shopping, Amazon is another big name that comes to mind. The site doesn't just sell new products, but you can also buy used phones from there. Amazon has a wide selection of pre-owned devices that have been certified by the company.
This means that they've gone through a rigorous inspection process to make sure they're in good working condition. You can browse the listed products by simply searching for the type of phone you need with keywords such as "used" or "refurbished."
4. Gazelle

Gazelle is one of the largest online phone trade-in sites. Users can buy and sell pre-owned smartphones. These include iPhones and Samsung mobile phones as well as iPads and MacBooks.
When you want to buy, simply go to the buying page and choose the model of your desired phone brand. For example, if you want an iPhone 13 Pro, simply select it from the drop-down menu. At the moment, select iPhone models have 13 percent off.
The good thing about Gazelle is that there's a 30-point inspection of devices to ensure they're good to use. A 30-day money-back guarantee is also available, meaning you can get all your funds back in case the item does not work as described.
5. Swappa

Swappa is a marketplace for buying and selling used phones, laptops, cameras, and other electronics. The deal happens directly without any middlemen. This would mean better-priced products.
Swappa doesn't allow broken items. So, you can be sure that the phone you get will be free from cracks and other defects.
You can shop for refurbished unlocked phones from iPhone, Google, OnePlus, or Samsung. The advantage of unlocked devices is that they'll be able to work with any cellular network rather than being limited to a specific one.
Swappa has the option to shop by the carrier. These include Verizon, AT&T, and T-Mobile. If you filter your search this way, you'll find whether the device you want to buy can be used with a particular carrier.
6. Best Buy
Best Buy is one of the most popular electronics stores. It's likely that you've visited the store before to buy a new phone or some other gadget.
What you may not know is that Best Buy also offers the option to buy used phones. These have been checked by the company to make sure they're fully functional. Also, most of the phones aren't locked to a specific carrier and have their data cleared.
The selection of available devices will vary depending on your location. But, you can expect to find popular models from brands such as Apple, Samsung, and Google. One of the advantages of buying from Best Buy is that you can choose to have the phone as soon as possible by picking it up in-store.
7. Walmart
Walmart is another big-name retailer that offers the option to buy used phones from quality sellers and suppliers. It has thousands of refurbished mobile devices that you can select depending on your budget.
These have all been checked by the company and come with a warranty in case they break within a certain period of time. The return and replacement period is 90 days.
An advantage of Walmart is that it has a couple of options when it comes to getting your item. You could get it shipped, pick it up, or request a delivery.
8. SellCell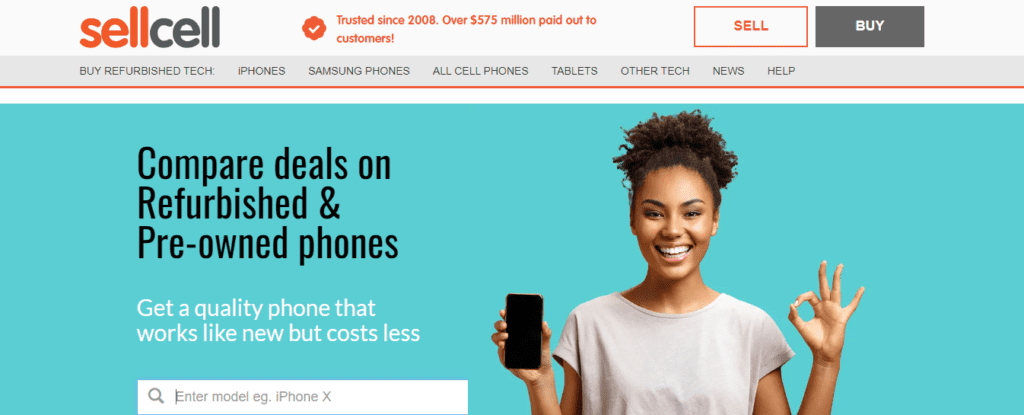 SellCell is a phone buy-back and trade-in site. It's one of the leading platforms of its kind, allowing people to sell their old phones for the best prices. The company buys all types of devices, including smartphones, smartwatches, headphones, and more.
To get started, simply select the brand and model of your phone. You'll then be given a list of offers from a variety of other marketplaces like Decluttr and Gazelle.
You just need to compare the prices and pick the listing that lets you spend the least money on the device while still getting all the nice features. You'll also see details such as free shipping, the number of happy customers, and money-back guarantees. Once you've made a decision, simply make a purchase and enjoy your new (to you) phone.
9. ItsWorthMore
ItsWorthMore is an online marketplace that you can use to buy all sorts of electronics, phones included. All the things sold on the site have been tested for quality.
The website frequently has deals and discounts on certain products. So, it's worth checking back often to see if there are any phones that are being offered at a lower price. It doesn't matter if you need an iOS or Android device.
There's a 25-plus point check and 30-day return policy on ItsWorthMore. Customers also enjoy a 12-month warranty. As if that's not enough, the site offers free 2-day shipping.
10. Phone Daddy

Wondering where else to buy used and refurbished phones at discounts? Phone Daddy may interest you. You have the option to buy an Apple phone, Android phone, or 5G phone as well as other electronic items and accessories.
What's great about Phone Daddy is that you can buy a used phone at a fraction of the original price. The devices are certified. In other words, they're checked for quality before appearing on the site.
Some of the items may have wear and tear depending on their state when listed by sellers. Still, you'll find info on the full condition of a device prior to purchase.
11. UpTrade
If you need newly listed certified used smartphones, you may want to check out UpTrade. The available brands are Apple, Samsung, and Google.
UpTrade is a platform that allows trade-ins too. You just enter the phone model you want to trade and a list of places with such offers will appear. So, you can give out your old phone if you still have it and get a different one in exchange.
Why Should You Buy a Used Phone?
Now that you know some of the best places to buy used phones, you may be wondering why you should get one in the first place. Well, there are several reasons.
More affordable than buying a brand-new phone: If you don't mind using a device that someone else has owned before, then this could be a great way to get your hands on the latest model without spending as much money.
Access better features: New phones are released all the time and, let's face, it most people can't afford to buy the latest model as soon as it comes out. By buying a used phone, you can get your hands on those same features for a fraction of the price. Plus, you don't have to worry about breaking your budget to stay up-to-date with the latest technology.
Better for the environment: When you buy a used phone, you're keeping it out of a landfill. And, since these devices are made with harmful materials, that's good for the planet.
What to Look for When Buying a Used Phone?
When you're buying a used phone, there are a few things you'll want to keep in mind. Here are some tips for what to look for:
Check the condition of the phone
One of the most important things to look for when you're buying a used phone is the condition it's in. If you can, inspect the device in person before making a purchase. If that's not possible, make sure to read the listing carefully so you know what to expect.
Make sure the price is right
Just because a phone is used doesn't mean it will be cheaply listed. Some sellers may put ridiculous prices just to get some quick and easy profit on their used phones. That's why it's important to do your research ahead of time so you know what the device is worth and compare offers from different sellers.
Look for a warranty or guarantee
If possible, find an offer that comes with a warranty or guarantee. This will give you peace of mind knowing that you can return the phone if it doesn't meet your expectations.
Read the reviews
Before making a purchase, be sure to read the reviews. This will give you an idea of what other people have thought about the product. And, it can help you avoid any potential scams.
Wrapping It up
These are some of the best places to buy used phones. You can check any of these sites out and get a quality device by just paying a portion of the original price. Just make sure to select the one that offers the best deal on the phone model you need.