Last Updated on May 23, 2021
Visualizing your goals is much effective when you have a vision board. I'm saying so because a significant number of goals on my vision board actually came true after some time. Whether you want a new home, a brand new car, or another job, you can create a vision board and make it happen.
Here is why it works.
Our minds believe the things we can see more than the ones we can't. You strengthen the emotions concerning your dreams when you use pictures. As you may know, emotions fuel the law of attraction.
When it comes to manifestation, lacking a clear mental picture of something you desire overworks your brain. Why would you go for the hard way? If you have any clearly defined goal, it's time to set up a vision board.
What is a Vision Board?
A vision board, also known as a dream board, is a collage of pictures, drawings, and affirmations used as inspiration for attaining goals.
You can either buy a vision board kit from some supplier or take advantage of the cork or poster board sold at your local retail store. Pins, tape, glue, and scissors are some essentials for putting items on your board. You can invite some friends to help you set it up unless you want to keep it a secret!
How Do You Use a Vision Board to Achieve Goals?
Achieving your goals takes less effort with a visualization tool by your side. If you put your board where you see it each day, you can regularly visualize your dream life and ready your subconscious mind for success. Visualization is powerful for attracting the people and things you want into your reality.
The best way to become productive is to start your day with a clear view of what you need to achieve. New ideas and resources can come your way. Sooner than later, you'll notice that your desires are not difficult to accomplish.
Keep in mind that your vision board should symbolize the exact things you desire. Prioritize what you want and not what you despise. Avoid pinning too much information to improve your focus.
Set up multiple dream boards if you need changes in several aspects of your life. For instance, place one vision board in your room and another somewhere in your office. The first one can be for your personal goals while the latter for your financial goals.
5 Steps to Create a Vision Board That Really Works
Vision boards aren't a foreign thing to the majority of successful people. If you haven't seen changes, there are high chances that your vision board isn't set up properly. You no longer have to keep searching for the perfect vision board ideas.
Here's how you can create a vision board that yields the results you need:
1. List the goals you want to accomplish.
Writing down goals is greatly associated with being successful. Our minds tend to prioritize the things we write over those that are just in thought-form. You'll be more inclined to chase your dreams if you put them in your own words.
Your goals should be clear before you start to visualize them. A general goal such as "I want a new car" might as well mean you have no goal at all. You should instead go after a specific car and include details such as its model and color.
The same applies to other life goals, such as finding your soul mate, boosting your study skills, or improving your confidence. Be specific but don't overstate anything. It helps when you believe in whatever you want.
2. Look for inspiration.
Your dream board should have images of your goals. Magazines are a suitable source of vision board pictures. You only have to cut out some photos and stick them on your board.
Let's say you need a new house near the mountains. You can a magazine related to that by asking your friend who works as a real estate agent or going to your local thrift store. They might also have some photos taken by them and share them with you.
You can also get relevant images from the Internet and print them for use in visualization. There are tons of stock photos available online for free. Pay attention to the colors, patterns, and designs when searching for the images.
3. Create a collage of photos.
The next step after deciding on the photos which you resonate with is setting up your dream board. Buy a cork or poster board from the nearest store you can find. Also, get the other cutting and sticking materials you may need.
Now, resize the pictures to the length and width of your desire. Lay them on your board first to find your desired order. After that, pin, tape, or glue them onto your board.
Ensure that what you create pleases your eyes. Allow it to dry once you are satisfied with the result.
4. Add some text to describe your pictures.
Adding text on your vision board is useful for describing how you feel about your goals. These can be affirmations that you want to see every day for motivation. I prefer writing such words in my handwriting rather than printing written text.
Give yourself time to find the right words for your affirmations. Use the source of your images as a reference. Some of the keywords to use are happy, proud, positive, empowered, and financially free.
5. Contemplate your dream board every day.
The purpose of having a dream board is to look at it every day. Place the board where you can easily see it to be consistent with the process. Be sure to spend a few minutes reviewing your board in the morning, evening, or both.
Check your dream board before any visualization exercise to remind yourself of your goals. This approach keeps the images fresh in your mind and makes it easy to focus. You teach your brain to attract what you really desire.
A vision board gives you the motivation you require to develop ideas as you go through your day. Your goals stay at the top of your mind as you begin and end each day. With patience and determination, it becomes effortless for you to notice and grab opportunities.
Example of a Completed Vision Board
Use the example below as inspiration for making your own vision board.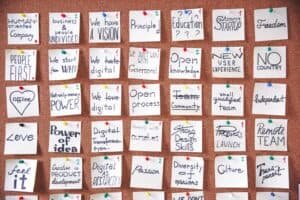 I hope you loved this guide about creating a vision board. It's worth spending some time to set up such visualization tools since it pays off in the long run. Go on and start making one for yourself!