Get Paid to Walk (Best Apps That Pay You in 2023)
This article is reader-supported and contains affiliate links. We get a small commission for specific actions or purchases made through them. Read more on the disclaimer page.

Maybe you like spending time outdoors and want to know how to get paid to walk. Or, you're interested in walking as a new way for you to make quick cash. Whatever the case, you've come to the right place for ideas.
At first, it may look like it's not true. But there are numerous legit and free apps that pay you to walk. You basically get free money for something we humans do all the time.
We all know that money can be a great motivation. You can cover more miles and always be in better shape if you use these apps to walk and earn money.
Can You Actually Get Paid for Walking?
Yes, getting paid to walk is possible. But you need the right online platform or app for that to happen.
Some apps will simply pay you for your steps. Others will give you money or other rewards if you take part in fitness activities, walking included. There are also apps that can pay you instantly for doing part-time jobs that involve walking, such as deliveries and running errands.
Best Apps That Pay You to Walk
Now, we'll explore the best apps to get paid for walking.
1. Sweatcoin
Available for: Android, iPhone
Sweatcoin is among the most popular apps that pay you for walking with over 10 million downloads on Google Play. This app converts your steps into a virtual currency called sweatcoins. 1,000 verified steps are equivalent to 0.95 sweatcoins.
Sweatcoin's activity counts your steps and monitors your exercising activities. The app runs in the background and thus saves your phone battery.
You can earn sweatcoins for physical activities other than walking outdoors. This includes working out at home.
The fitter you get, the more rewards you receive. You can spend your earned coins on goods like gadgets, sports and fitness kits, services, and experiences.
Sweatcoin also has PayPal cash offers. Aside from the rewards, the app is great for ensuring good health through exercise.
2. Evidation
Available for: Android, iPhone
Evidation, formerly known as Achievement, is yet another health and fitness app that pays you to walk. Millions of people use Evidation to earn points for activities like walking. As if that's not enough, you can get paid for meditating, logging meals, answering questions, and more.
Evidation focuses on helping medical research. The company aims to assist in the study of human health and share insights with users as well as medical journals. So, as an Evidation member, you'll be contributing to a healthier world.
You can choose from over 20 well-known apps to connect your account to and start earning. They include Apple Health, Fitbit, and Garmin.
10,000 points are equal to $10 on Evidation. You can redeem these points through PayPal or direct deposit, or donate them to charity.
3. Miles
Available for: Android, iPhone
Miles is a free app to get paid for your steps. One difference Miles has compared to other "get paid to walk" apps is that it rewards you for all modes of transportation.
So, it's not just through walking and running that you can earn miles, the company's version of points. You're free to ride a bike, take the train, travel by air, and more.
Miles has various challenges that users can take part in. They're great for making your trips more fun and valuable.
It's possible to redeem miles for rewards such as gift cards, credit, and discounts. Some top brands from which you can redeem rewards on Miles are Walmart, Amazon, and Target. You can also enter weekly raffles for a chance to win huge prizes.
4. StepBet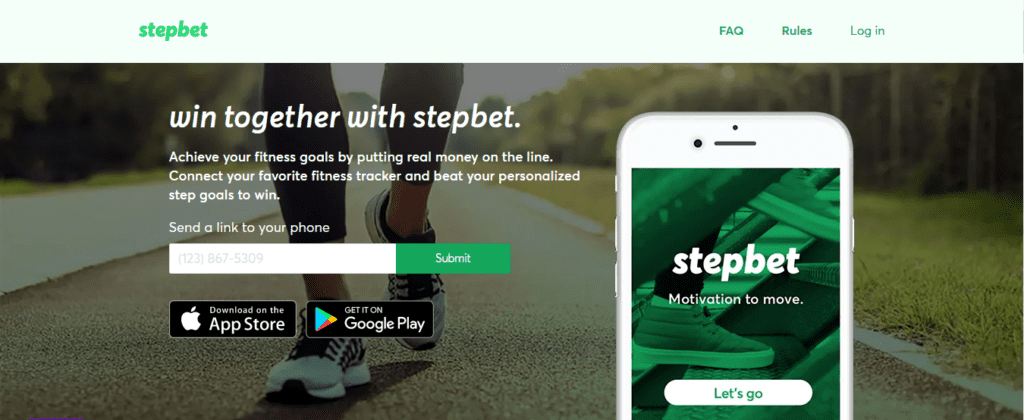 Available for: Android, iPhone
Need a walking app that enables you to bet money on yourself? If that's so, StepBet might just be what you're looking for. It's a great app that motivates you to get up, move, and keep fit.
StepBet has over a million players, most of whom have received payouts. You can join them too for a chance to win. It's quite easy to start.
You simply choose a game to get your step goals and place a bet. The next thing is to get moving. You need to reach your personalized step goals for each week of the game.
If you achieve your goals for the entire game, you get back your bet amount and real profits on top of it.
The good thing is that StepBet can work with other fitness programs like Google Fit, Fitbit, and Samsung Health. Winnings go to your account after the game and you can request payouts to PayPal.
5. LifeCoin
Available for: Android, iPhone
If you want an app to walk and earn money, LifeCoin may interest you. The app rewards you with LifeCoins for every GPS confirmed step.
LifeCoin is perfect for various outdoor activities. You're free to walk, hike, or run to earn these points. The app will recognize your steps and mileage. That's how you accumulate the coins.
You can even see how many steps your friends take each day. This can be a great source of motivation to walk more.
LifeCoins are exchangeable for PayPal and Amazon gift cards, sporting goods, and other products. The best way to maximize your LifeCoin rewards is to take more steps.
6. Charity Miles
Available for: Android, iPhone
Charity Miles is a free app that enables you to earn money for charity by walking. In other words, you turn miles into money that goes into other causes. The app has over 100 million miles moved and more than $2.75 million raised.
Charity Miles partners with tens of well-established charities impacting health and other matters. If you like to be active while helping others, this is the app to use.
When you create an account, you can choose a charity to move for. It can be something or someone you've grown to be passionate about.
Charity Miles tracks your distance by using your phone's pedometer and GPS. It syncs with Apple Health on iPhone to monitor your steps and miles. The brand's sponsors make donations based on the distance you cover.
Sites and Apps to Get Paid for Walking and Related Activities
Besides apps specifically for walking and earning money, here are other ways to get paid to walk.
HealthyWage – Losing Weight
HealthyWage is an app that's best suited for people looking to lose weight by walking and taking on other physical activities. If you're wondering whether HealthyWage is legit, the app has over 100,000 installs on Apple Store and Google Play, good reviews, and great ratings.
It's quite simple how HealthyWage works. You just need to make a bet on your weight loss or participate in a fitness challenge. You could win up to $10,000.
In nutshell, you can make a HealthyWager as follows:
Go to HealthyWage.com to get started.
Select how many pounds you want to lose.
Pick how much time you need to reach the weight loss goal.
Select the amount you want to bet per month.
Fill out your details like current weight, height, gender.
Answer a few questions about your weight goals.
Know what prize you could get.
Many HealthyWage participants cite money as a good motivator when it comes to losing weight. You must reach the goal you set to win the prize. HealthyWage pays you via PayPal or check.
Rover – Walking Dogs
If you're a dog person, you can make money by walking dogs using Rover. This online marketplace for pet care services connects pet sitters with local pet owners.
Dog walking is as beneficial to dogs as it is to human beings. You get a chance to improve your cardiovascular fitness and stay in shape.
If you want to join Rover and enjoy such benefits, you just need to create a sitter account. You're able to choose the pets you prefer as well as the time that works for you.
As a Rover sitter, you can also house sit or do regular drop-ins at the pet's home, or have a dog daycare at your place. It all depends on the job. You get paid for each successfully completed service.
DoorDash – Delivering Food
Is delivering food to people something you'd like? If so, you can become a DoorDash Dasher and earn money by walking, riding, or driving. Your work is to pick up and deliver what customers order from restaurants and stores.
While delivering food requires a car in many cases, DoorDash allows you to use a bike or scooter in select locations. As for a simple delivery job nearby that requires little effort, you can dash on foot.
If you join DoorDash, you can choose where and when to work. You're free to dash in your hometown or a place you're just visiting when you're free. However, making more money requires you to do deliveries for more than just a few hours.
Related: Best Delivery Apps to Make Money
Instacart – Shopping and Delivering Groceries
Instacart is an app that makes it possible for you to shop for groceries and get paid. An Instacart shopper's job is to pick groceries from a store for customers and, in some cases, deliver the items to them.
If you want to become an Instacart shopper, there are two ways to do it. You can work as an in-store shopper whereby your work is just to select grocery items at a specific store.
The other role that involves more physical activity is a full-service shopper. In this case, you do the shopping and also deliver customer orders. You'll need a vehicle to transport the items from the store to their destination.
Both positions allow you to select your work hours. You're free to work just a little each day or week or shop and deliver for as many hours as you like.
TaskRabbit – Running Errands and Doing Deliveries
TaskRabbit is a great app with lots of walking-related jobs. Two of them are running errands and doing deliveries. Homeowners can hire taskers to make a trip, buy groceries, or deliver an item on their behalf.
All you need to do is select your area, choose a service category, and set up an account with your details. The good thing about TaskRabbit is that you become your own boss.
Taskers are the ones to decide when to work and for how long depending on their financial goals. As a tasker, you can set your weekly availability or go for same-day jobs. You're also free to set the rates you like.
Related: Best Apps for Odd Jobs
How Do These Apps Make Money?
You may be wondering where the rewards you get for walking come from. Some apps that pay you for steps have brand partners and sponsors.
This means that a company pays them in return for advertising. The app can then share these rewards with its participating users.
As for these other apps for walking-related jobs, they can make money by taking a service fee from users. It can be the buyers, sellers, or both.
More Ways to Make Money By Walking
Adie from money-making and rewards apps, let's now find out additional ways to earn money by walking.
Work as a tour guide
Want an enjoyable way to make money by walking? If so, you can be a tour guide.
Tour guides are involved in planning tours, offering sightseeing advice, accompanying tourists, and other activities. You need to be good organizational, time management, and conversational skills to be a successful tour guide.
Being able to stand and walk for extended periods goes a long way too. In some cases, you may have to work in the evenings and weekends. You can either do this independently or work for a local tour company.
Pick litter
If you hate messiness but don't mind clearing it up, you can pick litter as a way to walk and earn money. It's a side hustle that can be quite profitable with time if done well.
Places like business premises and offices usually have some litter from time to time. If you look around your area, you may spot potential clients to enter a litter cleanup agreement with.
You just need to offer your services for a specific amount of money. One great pricing strategy is to charge per hour. It helps to have the necessary equipment to appear professional and increase your chances of getting more jobs.
Mow lawns
This is yet another job that involves walking. Your work is simply taking care of lawns by leveling and cutting grass.
Many homeowners can't mow lawns or don't have the equipment to do it. That's why they're willing to pay someone to get the job done.
You can offer more services beyond lawn mowing such as landscaping. All you need are the right gardening tools and machinery.
Wrapping up on Walking Apps
Many legitimate apps that pay you for walking exist. You just need to actually get moving to earn the rewards. So, pick one, a few, or several apps that can work in sync, and start walking toward your financial goals.
You can't make a living from just a walking app. But the extra bucks are great for motivation purposes when it comes to walking for good health and fitness.
Still, there are really well-paying jobs involving walking and other physical activities like delivering stuff. Feel free to try them too to boost your income.